About Hub City Home Inspections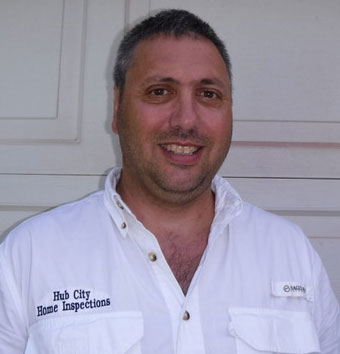 Greg Porcello, Owner of Hub City Home Inspections
Greg Porcello—Certified Professional Home Inspector (CPI)®
Greg Porcello is the owner and home inspector of Hub City Home Inspections, LLC. Greg knows that when a home inspection is done right, homebuyers will be able to breathe a sigh of relief and enjoy a welcome boost in confidence. When he steps foot onto a property, Greg performs the evaluation with an investigative mindset and a careful regard for the home's condition. He takes pride in the quality of his work, helping clients avoid financial pitfalls and to trust in their ability to make an informed decision.
Success Begins With the Right Mentality
Greg has the following licenses to ensure top level of training and qualifications.
Mississippi Home Inspector Board Lic  #0727NH
Mississippi State Board Of Contractors Lic #R18233
International Code Council Lic #8901255
Before he became a home inspector, Greg worked for over 20 years in the oil and gas industry. For much of that time, he was an inspector of offshore living quarters, where he ensured that each living area complied with the strict standards of the Coast Guard. The mentality that Greg adopted then remains a tremendous influence on his perspective today. He believes that a homebuyer's success is hinged on their knowledge of a prospective investment, and it's up to the home inspector to practice in accordance with the highest standards—consistently providing each client with the most accurate assessment possible.
Members of the Same Team
Hub City Home Inspections, LLC stands beside our clients as they prepare to make one of life's biggest decisions. We always take your interests into consideration before the inspection begins, learning what elements appeal to you about the home and what you're willing to accept should any issues be discovered.
Greg encourages his clients to attend their inspection to see firsthand what investing in a particular home will entail
Because it's important for you to understand everything that you can about a home, Greg will take your phone call as late as 10 p.m. to schedule an inspection or to answer any questions that you may have—even weeks after the inspection is over
If you're concerned that something was overlooked, Greg will gladly return to the property free of charge to evaluate the component in question
When he's not inspecting homes, Greg is an avid pilot, spending much of his free time flying in the company of his wonderful family and friends.